Community Foundation Fund
Our Vision
We strive to promote a welcoming community that will preserve the integrity of our small-town history and heritage. Through local investment from generous benefactors, we encourage opportunities and services that attract people of all means to live. work, and visit our community.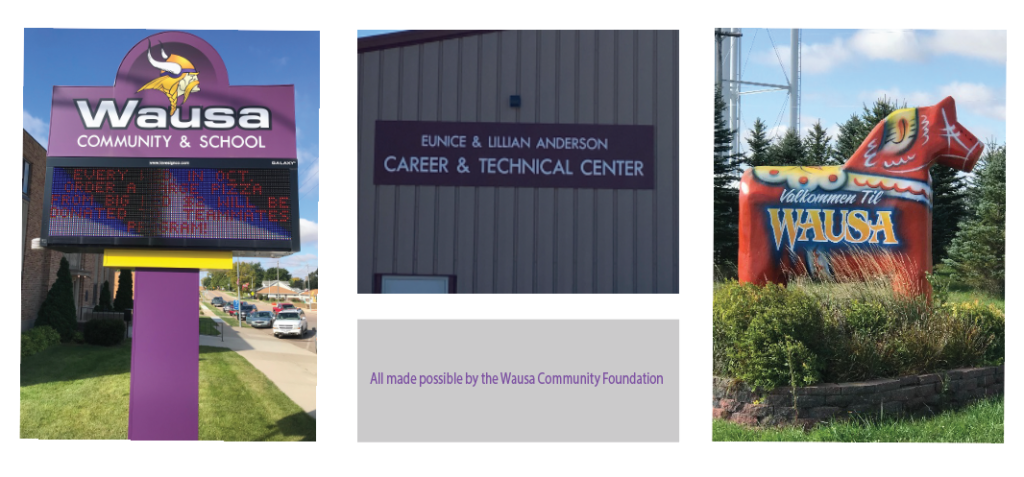 About Us

A group of thoughtful community leaders launched the Wausa Community Foundation Fund in 2005 as an affiliated fund of Nebraska Community Foundation. Now part of a statewide movement. spearhead community development and create prosperity, the Fund is working to build a culture of philanthropy and a robust unrestricted endowment to benefit our community long into the future. The Wausa Community Foundation Fund supports quality of life initiatives to benefit the lives of current residents and attract new families to live, work, and raise their children in our hometown. To date we've supported recreational, mentoring, and leadership programs; local recreation projects; technology and resources for the local public library and school; and other high impact initiatives and programs

What is an Unrestricted Endowment?

The Wausa Community Foundation Fund is committed to building an unrestricted endowment for the Wausa community. Similar to a community savings account, unrestricted endowments are an important tool to keep hometowns across Nebraska growing, thriving, and improving for future generations. While a portion of the income earned by the endowment is granted annually to fund projects and programs to benefit the community, the principal remains intact and grows every year. Forever
Building our endowment will put philanthropy to work in our hometown, providing a steady stream of resources for community improvements today and investments for tomorrow. Together, we can build a brighter future for Wausa and create a community that our children and our children's children are proud to call home.
Ways To Give
Your generous gift will not only help today; It will continue to grow forever. Below are a number of ways you can support the Wausa Community Foundation Fund.
Cash
Marketable Securities
Gifts of IRA
Agricultural Commodities
Retirement Assets
Real Estate
Life Insurance
Closely Held Stock
Contact Our Fund Advisory Committee
Carolyn Hall: ladydocac@gmail.com
Rod Banks: bmarks@blfdbees.org
Bob Marks: bmarks@blfdbees.org
Debbie Vanness: dardebv@gpcom.net
Heather Carlson: heather.carlson@wausabank.com
Carlie Johnston: johnstoncarlie@gmail.com
Barb Strivens: gstrives@gmail.com
Brian Eldorado: eldoinc56@gmail.com
Darren Vanness: darren.vanness@corteva.com